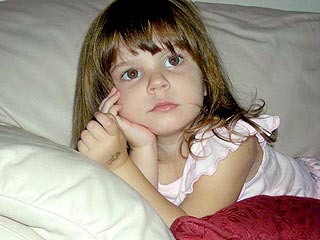 I almost fear to write this post. Almost.
I have been grieved along with many others every time I see this picture of Caylee Anthony. Mostly because knowing what happened to the sweet little girl pictured--well, it's just horrific. And partly, if I am honest, because this particular picture, and the dark brown eyes looking up so sweetly, could be of our granddaughter Trinity about two years ago. It gives me a physical, gut-level reaction to the events that perhaps I wouldn't have otherwise. I grieve for the life that was stolen.
I was among the many who were surprised by the verdict. Clearly, Casey Anthony is deceitful, disturbed, and has no credibility. Her story is hard to believe. In fact, I don't believe it. I find her actions (or lack of action) perplexing, disturbing, alarming, and disgusting. Did she kill her daughter? I don't know. Few believe we will ever really know what happened to little Caylee.


Still, there are other disturbing things these days following the "not guilty" verdict. For one, the reaction of many people towards the jury. I have an opinion about the case--but let's face it--I wasn't in the courtroom and I didn't have to be a juror, and I don't know all that they heard and saw. I know that our justice system is deeply flawed. But I still rejoice that, at least in theory, we are "innocent until proven guilty." Do we have any respect whatsoever for the fact that the accused was found "not guilty" in an American court of law?
I am perplexed at the comments I have read and heard about the attorneys who represented Casey Anthony--that they are "scumbags" or "as guilty as Casey" or similar sentiments. If I ever find myself in a courtroom as an accused person, I will want a lawyer who does what they are supposed to do--defend me to the best of their ability. Is that not the job of the defense, for goodness sake? Do we not know that accused people are not always guilty people? It may be a flawed system, but I'm glad we have a system!
Most of all, I am disturbed by the hate-filled, venomous statements (often referencing God, Hell, judgement, and so on) from people who probably would call themselves Christians.
Here are a few samples from the Internet:
"The jury may have found her 'not guilty,' but she'll get what's coming to her. God will make sure of that!"
"Casey, you didn't win. You have a dead daughter, a guilty conscience, a society that hates you and a date with God."
"Dear Casey Anthony, God will deal with you. Good luck finding a lawyer that will help you lie to Him."
"There is a special place in Hell for you, Casey."
Surely I am not the only one who is disturbed to hear or read Christians hurling judgment in anybody's direction. Is this what we should do?
A recent column from J. Lee Grady said, "But in the end, people who follow Christ should not be grabbing pitchforks and demanding vigilante justice just because a trial didn't turn out the way we thought it should. Our response should be tempered with redemption."
Absolutely!
Have we forgotten that Jesus said he did not come to call the righteous, but sinners, to repentance (Luke 5:32)? Have we forgotten his words to the religious individuals who brought a woman caught in adultery to him? "Let the one who is without sin cast the first stone" (John 8:7)? Or Romans 3:23 which reminds us that ALL have sinned?
If we truly know the forgiveness of Christ, how can we rejoice that someone else will"get what's coming to them"? Our attitude should be guided by Ephesians 4:32: "Be kind to one another, tender-hearted, forgiving each other, just as God in Christ has forgiven you." If I understand that I am not righteous, I can hope that others find forgiveness and peace. Is that not the Good News, after all?
One thing I know, God's love is not just for the "good" people. Sometimes I wonder if those who are the loudest in condemning Casey to God's wrath are not, as Shakespeare said (paraphrased) protesting a bit too much?
Will you join me in praying for Casey and for her fractured family? It is certain that God loves them--flaws, sins and all--and they desperately need God.
And will you also join me in a prayer for the abused children whose stories do not make the headlines? One organization involved in abuse prevention has said that
every 10 seconds
a case of child abuse is reported. Think of the unreported ones...the little ones who are, even now, afraid. Let's stop minimizing abuse, especially in the church, and let's be vigilant in in addressing child abuse in all its forms. Let's make sure we are aware and careful and loving toward children around us. Let's stop all the rhetoric and do something constructive with our frustration. And let's be known as people of grace and mercy. Let's put down the stones.